New Health Canada approved drug costs more than $700 a pill. The list price in Canada is set at $60,000 for a 12-week course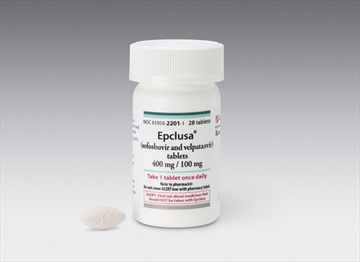 EPCLUSA
TORONTO – Health Canada has approved a drug being touted as a cure for hepatitis C, a disease believed to have infected hundreds of thousands of Canadians, many of whom are unaware they harbour the virus.
The drug, sold under the brand name Epclusa, is a once-daily pill taken for 12 weeks that can rid the body of all six strains of hepatitis C, a blood-borne virus that can lead to severe liver damage and liver cancer if left untreated.
"This is really a cure," Dr. Jordan Feld, a liver specialist at Toronto Western Hospital, said of the medication, also known by its generic chemical designation sofosbuvir-velpatasvir.
One catch, though: Epclusa is expensive. The list price in Canada is set at $60,000 for a 12-week course — or more than $700 per pill.
Two other hepatitis C drugs also made by Gilead Sciences Inc., and already approved in Canada — Harvoni (genotype 1) and Sovaldi (genotypes 1, 2 and 3) — also carry hefty price tags: the cost of an eight- to 24-week regimen of the antivirals ranges from $69,000 to $110,000, although several provinces have joined together to leverage their buying power to negotiate better prices.
Still, Feld insists the newly approved drug is a "huge advance" in hepatitis C treatment.
Read more….http://www.thespec.com/living-story/6767324–cure-for-hepatitis-c-carries-heavy-price-tag/